Naomi Scott Net Worth:
$3,000,000
Naomi Scott net worth: It is believed that Naomi Scott's net worth can be around $3 million, which she has been accumulating since the beginning of her career in 2008. All her income comes from the movies and shows she has appeared in and apart from her singing, like her independent EPs and her songs from the Aladdin and Lemonade Mouth soundtracks.
Her biggest earnings came from the movie Aladdin, a box office success that gathered over 1 billion dollars from a budget of only $183 million. Naomi also received a good amount from the Power Rangers movie even though it was a box office failure, only earning $142.3 million from a budget of $105 million.
Charlie's Angels, Aladdin, Power Rangers. Those movies have in common that they have starred Naomi Scott, a British actress and singer with an extensive career slowly rising in Hollywood.
Naomi Scott is a very accomplished artist with a great talent for acting and singing, which you will learn after you check out this post about her career, net worth, and personal life.
Early Life
Naomi Scott was born in Hounslow, London, England, on the 6th of May in 1993 to parents Ushua and Christopher Scott. Naomi has Gujarati Indian descent from her mother's side, was born in Uganda, and migrated to the United Kingdom at a young age. She has an older brother called Joshua Scott, who is currently married.
Naomi's interest in the arts started when she was only eight years old, as she grew up attending the Bridge Church in Woodford, London, where both of her parents were pastors.
The church was full of gospel and R&B music and had a Bridge Church Youth Band choir. Naomi was an active member of this group. She also used to do missionary work with her family. In this church, she met her future husband Jordan Spence.
She spent her teen years going to Davenant Foundation School, a Christian school in Loughton, Essex, but she left it and took her Advanced Level qualification instead to pursue a major role in 2010.
Naomi has said that she felt like she didn't fit in at school, though she used to participate in drama and musical productions.
Career
Naomi Scott's career started very early on. First, she was discovered after a pop singer and member of the girl band Eternal Kelle Bryan spotted her at her choir in the Church.
Bryan signed her as a client, and Naomi worked with some producers and songwriters, such as the Xenomania team, but her first job as an actress was in 2008 at a Disney Channel UK show called Life Bites played Megan.
Two years later, she starred in her first American production, also for Disney, in the original movie Lemonade Mouth as Mohini "Mo" Banjaree, along with Hayley Kiyoko, Bridget Mendler, Adam Hicks, and Blake Michael, where they performed the story of a group of struggling teenagers that form a band a find friendship in the way.
She sang a few tunes for the soundtrack movie like She's So Gone, that reached number 3 on the Bubbling Under Hot 100 Singles charts. Naomi also contributed to Breakthrough, More Than a Band, and Livin' on a High Wire alongside the rest of the cast.
The same year she was cast for Lemonade Mouth, she was signed to play Mandy Shannon in the sci-fi series Terra Nova; this was the role that made her leave school. However, the show was canceled after just one season in 2011. After that, she had minor parts in different shows like By Any Means for the next couple of years.
In 2014 she returned to pursue her musical career and published her debut EP called Invisible Division, with four songs called Hear The Bells, Say Nothing, Motions, and Running.
Her sophomore and third EP were released in 2016 and 2018, called Promises and So Low/Undercover. Promises had four songs, Lover's Lies, Fool, Prayer-lude, and Promises, while the third EP counted 2.
Naomi had a recurring role between 2015 and 2016 in the British series Lewis as Sahira Desai, but she didn't get any major roles until 2015 after many auditions.
Her first big-screen role was in the biographical movie The 33 as a minor character. Naomi became more relevant in 2017 when she starred in the Lionsgate adaption of the Power Rangers movie as Kimberly Hart, the Pink Ranger. This earned her a Teen Choice Award nomination, even though the film was a box office failure.
Then, in 2019 got the role that would give her the most recognition yet, as Princess Jasmine in the live-action version of Disney's Aladdin, and she also was part of the soundtrack.
This has been her most successful film yet with Will Smith and Mena Massoud. In addition, Naomi sang one of the leading songs of the movie, Speechless, which was believed to get a Grammy nomination due to its performance on the worldwide charts. She also contributed to Desert Moon, A Whole New World, and her co-star.
Her casting created a bit of controversy since some critics believed there was a lack of diversity since she was British, but she received her first and only award to date, a Teen Choice Award.
The same year she appeared on Charlie's Angels along with Ella Balinska and Kristen Stewart. This same year she was featured on the cover of British Vogue.
In September 2022, she is expected to appear in Distant, a sci-fi comedy movie that had to be held during the COVID-19 pandemic, alongside Zachary Quinto and Anthony Ramos and in an upcoming Netflix anthology series called Anatomy of a Scandal.
Life Bites (2008)

Lemonade Mouth (2011)

By Any Means (2013)

The Martian (2015)

Hello Again (2015)

The 33 (2015)

Lewis (2015-2016)

Terra Nova (2011)

Power Rangers (2017)

Aladdin (2019)

Charlie's Angels (2019)

Distant (2022)

Anatomy of a Scandal (2022)
Discography 
Invisible Division (2014)

Promises (2016)

So Low/Undercover (2018)
Awards
Teen Choice Award for Choice Movie Actress-Sci-Fi/Fantasy (2019)
Naomi Scott-Biography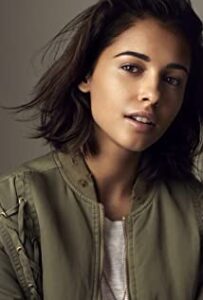 | | |
| --- | --- |
| Real Name | Naomi Grace Scott |
| Birth Date | May 6th, 1993 |
| Age | 28 |
| Birth Place | Hounslow, London, England |
| Nationality | British |
| Profession | Actress, singer |
| Religion | Christian  |
| Sun sign | Taurus |
Physical statistics
Height

5 feet 4 inches

163 cm

Weight

132 lbs

60 kg

Chest Size

34 inches

Waist Size

26 inches

Biceps Size

Unknown

Shoe Size

8 (US)

Hair Color

Dark brown

Eye Color

Dark brown

Body Type

slim

Sexual Orientation

Straight 
Qualification/Education
| | |
| --- | --- |
| School  | Davenant Foundation School |
| College | None |
Family
| | |
| --- | --- |
| Father | Christopher Scott |
| Mother | Ushua Scott Joshi |
| Sister | None |
| Brother | Joshua Scott |
Naomi Scott Relationship status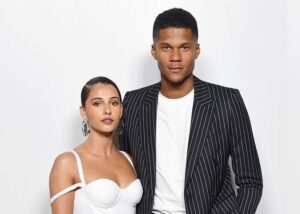 | | |
| --- | --- |
| What is Naomi Scott's Marital Status? | Married |
| Does Naomi Scott have any relationship affairs? | No |
| Is Naomi Scott gay? | No |
| Who is Naomi Scott's spouse? | Jordan Spence  |
| How many children does Naomi Scott have? | None |
Favorite Things
| | |
| --- | --- |
| Actor | Brad Pitt |
| Actress | Megan Fox |
| Movie | Shawshank |
| Book | The Twilight Series |
| Singer | Madison Beer |
| Color | Red |
| Sport | Football (Soccer) |
Naomi Scott-Personal life
Naomi Scott has been married to football player Jordan Spence since June 2014. The couple met when she was 16 years old at her local church, and they dated for four years before saying their vows.
Currently, they don't have any children, nor are they planning on having them somewhere near in the future. Instead, they live happily in California.
She is very open in her interviews about her favorite things. She loves the Twilight series books and enjoys listening to Madison Beer. She also spends a lot of time writing songs, dancing, and playing the piano.
Naomi is very active on her social media. She currently has over 230.6K followers on Twitter, 3.4 million on Instagram, and over a million monthly listeners on Spotify.
Trivia
Naomi Scott is half Indian from her mother's side. 

Naomi Scott was cast for a role in the movie The Martian, but she was removed from the final cut and appeared in it as an extra.

She has appeared in various music videos, including Motions, Lover's Liers, Vows, Irrelevant, Reload, all the music videos from Lemonade Mouth, and Hurricane by Bridgit Mendler. 

Naomi Scott has suffered from eczema.

Her parents are still ministers at the Bridge Church in London. 

She met her husband when they were teenagers at church. 

Naomi Scott is a very close friend of Bridgit Mendler, one of her co-stars on Lemonade Mouth.

Naomi Scott is very strict when it comes to her roles. She has said that she doesn't accept just any offered role. 
Final Thoughts
Naomi Scott may not have such a big career as other actresses, but she has proved to be a very talented woman that has never given up on her dream since she was a kid. She still has a solid fan base who have followed her music and acting career and are praised greatly by the critics.
Luckily you find this post about Naomi Scott, her net worth and entire career amusing, and you would like to share it with your friends.
More Celebrity Net Worth Articles: